Printing Brief History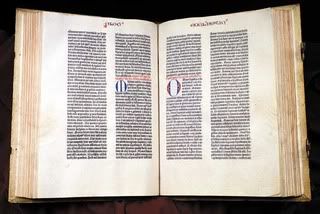 China, Korea and Japan already known the printing technique since 8 century. The method they used is using a wood block who impress image to substrate using water base paint. At 1440 in Mainz-Germany, Johannes Gutenberg find new method, using a single font engraved at a wood block, and then develop to metal. That single font can arrange to be word or sentence, after use for print they can rearrange to a single piece again for other order.
The single font arrange like a stamp, inked, and then print to substrate with pressure.
That printing method become a idea for Gutenberg who makes a printing machine. That first printing machine use for a couple century. Johannes Gutenberg first big order is makes a Bible with 42 row, 2 column, 1282 pages, and makes 200 copies of that Bible. That Bible project finish for 2 years, with 6 workers.